WELCOME TO FOND-DU-LUTH CASINO!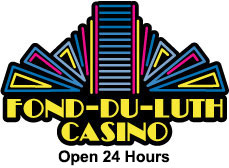 Hart District Ramp Repairs: SHUTTLE FOR CASINO Service: 10/2/17 until the ramp is reopened. (Subject to change)
While the HART district parking ramp (next to the casino) is under repair, you may find parking at the Medical District ramp located on 3rd Ave and 1st Street (behind the Sheraton).
Fond-du-Luth Casino is offering a free shuttle service to and from. Bayside Taxi | Shuttle Guest line 218-591-3151
Bayside is providing exclusive service, 24 hours a day, seven days a week, ONLY to the "Medical District" ramp.
For a Pick Up - the guest may call the guest line directly or FDLC staff will be happy to make the call.
Bayside Taxi will ONLY be using a White Chevy Express Passenger Van with a Fond-du-Luth logo displayed on the doors. No other Bayside Taxi is involved.
Any and all incidents including, but not limited to injuries, lost or stolen items, etc. will be handled by Bayside Taxi.
The shuttle will pick up guests at the Casino's Superior Street entrance.
Guests returning to the ramp will be brought to the ramp.
Owned and operated by the Fond du Lac Band of Lake Superior Chippewa, Fond-du-Luth Casino is located at 129 East Superior Street in the heart of downtown Duluth.
The Fond-du-Luth Casino offers its guests an exciting array of gaming entertainment choices for adults 18 or over. Whether you are a fan of Blackjack, or Slots we have what you are looking for! And, it's all provided in a clean, friendly and comfortable environment.
Our friendly wait staff offers blender drinks, cocktails, beer, and wines. We also offer Check Cashing and ATM service.
So, join us and, "Have a great time out at Fond-du-Luth!"
Visit our Sister Casino in Carlton, MN!